There's a reason people often use the word 'historic' in relation to Rochester, and when you're stood near the Old Bridge, on the bank of the River Medway, it's not difficult to see why.
Our medieval Bridge Chapel and Victorian Bridge Chamber sit between Rochester Castle and the High Street, in an archaeologically sensitive area that's partially within the Roman town wall. We also have Rochester Cathedral behind us and countless more historical buildings lining our picturesque High Street.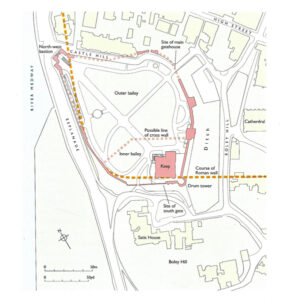 Consequently, all excavations carried out within the Chapel and Chamber as part of their internal refurbishment work require archaeological mitigation in accordance with the conditions laid down by the local planning authority.
At the Trust we're fortunate to have the benefit of hundreds of years of documentation in our extensive archive, which includes records of the buildings that previously occupied the site of the Bridge Chamber. This has been helpful in identifying some of the features uncovered by our contractor's excavations – in particular what we believe to be parts of the Queens Arms Public House, which occupied the site until its demolition some time around 1874.
Here are two different angles of the site, showing the 17th century Bridge Chamber, shortly before it was replaced with the 1879 building we have today. Both views show the site following the demolition of the Queens Arms, with the pub's chimney still in position.
Wouldham-based archaeologist David Britchfield, of Ravelin Archaeological Services, who has many years of experience and was involved in our recent bridge refurbishment, has a watching brief for this project, attending the site when excavations take place. This included attendance in January 2019, when some trial pits were excavated as part of the pre-planning works for the refurbishment. During this time one of the trial pits uncovered a remnant of an old stone wall. This aligns with a wall of the Queens Arms Public House.
David continues to attend during controlled excavations, as required for new drainage and services, the foundations of a new out-building foundations and the pit for our new lift, for example.
These excavations have led to some interesting finds, including ceramic clay pipes (smoking pipes) and a spoon, as well as the remnants of masonry walls and chimneys.
By overlaying a plan of the Bridge Chamber onto an 1860 survey showing the Queens Arms we are able to tie in existing and discovered walls to the former public house, which we believe is quite an interesting discovery.
For those interested in older history, no earlier medieval or Roman remains have been found because these would be at a lower level than the excavations being carried out today.