A Victorian church window has been restored and rededicated, with financial help from the Rochester Bridge Trust.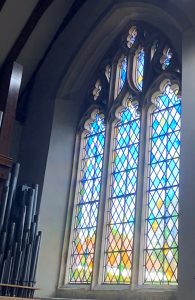 The newly-named Diamond Memorial Window in St Martin of Tours at Detling was officially dedicated at a special service on Sunday, 11th March. Among the attendees were the Lord Lieutenant of Kent, Viscount De L'Isle and Viscountess De L'Isle; the Mayor and Mayoress of Maidstone, Malcolm and Brenda Greer; Trevor Willmott, the Bishop of Dover; and Sue Threader, Bridge Clerk to the Rochester Bridge Trust.
The Reverend Paul Kite welcomed the congregation. He said: "This has been a long project from identifying the need for restoration in 2012 to seeing the final creation today, and we are grateful to all who supported our work, including the Rochester Bridge Trust."
The project began in 2012, and takes its name because of its more than 480 diamond-shaped pieces and timing in relation to the Queen's Diamond Jubilee. The word memorial was added in recognition of the legacy received from Pat Dale, as a way of remembering former residents, members of the congregation and loved ones.
The window was designed to retain its historic diamond pattern while introducing coloured glass.
Sue Threader commented: "The Trust was very pleased to support this refurbishment and to be invited to see the end result of years of hard work to complete this project. It was a very moving service and this window is a worthy memorial."
The window cost just over £12,500 to repair, with all of the money coming from donations – including £2,000 from the Rochester Bridge Trust. It was designed by John Corley Stained Glass Studio in Deal.
To find out more about grants from the Trust, see www.rbt.org.uk/grants.