Agriculture scholars were given first-hand experience of the relationship between a bridge and the land during a tour of farms owned by one of the country's oldest charities.
As part of an initiative to give added value to their studies, the Rochester Bridge Trust invited its Spence Agricultural Scholars for a tour of the Trust's bridges and some of its land holdings, as well as providing a session in professional development.
Education Officer Claire Saunders explained: "Our scholars are very promising young people who are clearly dedicated to their studies and passionate about agriculture. This visit was designed to give them first-hand experience of different land uses on the Trust's estate, to build on their strong interpersonal skills and to introduce them to the bridges and the engineering heritage of which they are now a part."
The trip began with a professional skills session, training the scholars in interview techniques and how to give effective presentations, as well as offering tips for creating a good first impression. It also included an engineer-led tour of the Rochester Bridge Refurbishment Project, which was an opportunity to experience a major engineering scheme at first-hand.
Estate visits took in Pumpkin Moon at Boarley Farm in Maidstone, and Chapel Down Winery in Tenterden.
Charlie Eckerly of Pumpkin Moon gave a tour of his fields, talking about his work growing a large variety of pumpkins and squashes, as well as the family activities run alongside his crop. This was also an opportunity for the scholars to discuss their own agricultural interests.
Chapel Down became the biggest vineyard in England when it began planting on the Trust's land at Boarley Farm, meaning its visitor centre was a must for this agricultural tour. Here the scholars explored some of the planted vine areas and learned more about viticulture before sampling some of the wines being created.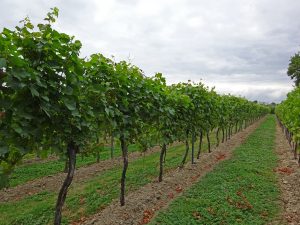 Scholar Rachel Banks said: "It's an unusual thing for an agricultural student to receive a scholarship from a bridge, so this tour was great for demonstrating the relationship the Rochester Bridge Trust has with the land.
"I also found the trip useful from a personal point of view, experiencing different land uses and developing my professional skills. I'm grateful to everyone who took the time to make the visit a success."
Spence Agricultural Scholarships were established at the start of the 2018 academic year, in recognition of the long service of John Spence, a former Senior Warden of the Rochester Bridge Trust. They are open to agriculture students at the University of Nottingham, who are from geographical areas linked to the Trust's property estate.
At present there are two scholars, Georgina Francesconi from Kent, and Rachel Banks from Cambridgeshire. A third, Alexandra Taylor from Lincolnshire, will begin her studies later this year.
For more information visit https://rbt.org.uk/grants/spence-agricultural-scholarship/